Avaya Aura
™
Communication Manager
Avaya Aura™ Communication Manager software offers strong PBX capability, highly-reliability and scalability, as well as the sound multi-protocol support. It includes advanced mobility features, built-in conference calling, contact center applications and E911 capabilities. It support users keep online connectivity with system management, application integration and extension and enterprise communication. Communication Manager plays two roles in enterprise management: one is Evolution Server, and the other is Feature Server in Avaya Aura™ framework.
The enterprise edition of Avaya Avaya Aura™ satisfies various communication demands of medium and large-sized enterprises. For example: comprehensive and united communication function and strong business continuity option including renewability of 100% remote location function. The application of enterprise edition meet users'demands without paying extra expense:
◆Allowable amount of TSAPI Basic function based on enterprise edition;
◆ SIP session management within enterprise;
◆Provide all users with united communication application through UC ALL Inclusive solution, including Microsoft and IBM UC integration, mobile employees and remote employee support;
◆Ensure reproducible ability of all stations through Avaya Aura™ for Survivable Remote(former Avaya Local Survivable Processor, also called LSP) and Avaya Aura® for Survivable Core(former Enterprise Survivable Server, also ESS);
◆Transnational gateway function;
◆The ratio of standard edition of Avaya Aura™ Conferencing is to provide a port for every 50 enterprise edition permission;
◆Appropriate Avaya integration management tools;
In addition, other solutions for Avaya united communication and contact center can also be added into Avaya Aura™, including abundant united information, conference and Web association, video terminal and bridge, voice and video self-service, leading communication multimedia contact center. Through biological system of Avaya DevConnect, clients can benefit from the extensive and tremendous identified third-party product series.
Commmunication Manager is operated on server Avaya S8800 or S830, it is supposed to realize virtual enterprises through following functions:
◆Powerful voice and video call function, cover various kinds of media gateway, high-resident and distributed network composed of simulation, digit and IP communication devices;
◆ Advanced stuff productivity and mobile office function;
◆Built-in conference and contact center application;
◆Centralized voice message and switchboard operation covering multiple locations;
◆ E911 function;
◆Support SIP, H.323 and many other industry-standard communication protocol based on different networks, in order to realize centralized voice message, switchboard operation and calling center of multiple locations;
◆Altogether more than 700 kinds of powerful functions;
◆ Focus on high availability, reliability and survivalability
Avaya Aura™ Communication Manager can be deployed as not only Evolution Server, but also Feature Server. Related information of two choices will be discussed in detail.
Evolution Server
While deployed as Evolution Server, Communication Manager supports 18,000 terminal simulation, digit, SIP and H.323 terminal registration. It links with Session Manager through SIP trunk, allows Communication Manager to provide services for SIP and non-SIP terminals simultaneously from the same server. After being deployed as Evolution Server, Communication Manager supports following functions:
◆ Mixture of SIP and non-SIP terminals(DCP, simulation, H.323);
◆ Connection and control of SIP and non-SIP terminal Avaya AES(Application Enabled Service) server;
◆ Sequence support of implicit application orienting Evolution Server;
◆ Core survival support—core communication interruption that mixed SIP and non-SIP terminals could support.
Communication Manager 6.0 — Evolution Server example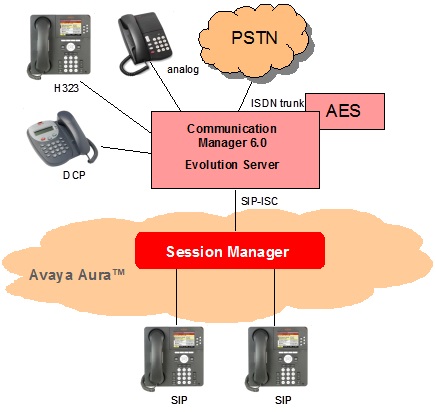 Feature Server
While being deployed as Feature Server, Communication Manager can support at most 7,000 communication functions which are registered to Session Manager of SIP terminal. Communication Manager links with Session Manager by SIP-ISC port. The solution adopts Half Call Model and supports SIP terminal only, Session Manager is responsible for calling route all the time.
Communication Manager 6.0 — Feature Example example